Coup is a fantastic bluffing-style card game for 2-6 players. It combines a little bit of deduction, back stabbing, and quick game play to make for a great gaming experience. You'll want to protect your components because you'll be playing it a lot!
When Chelsey and I moved to Atlanta, I wanted something to do on my own. It was the first time we'd lived together in a major metropolitan area, so I wanted to find my people, the gamers at some friendly local game store (FLGS).
Coup was the first game I played at the store we now frequent every week. At first, I was a bit skeptical, since my main exposure was to bigger games like Arkham Horror and Legendary. But I found Coup to be easy to pick up, play, and then play again. And again. And again.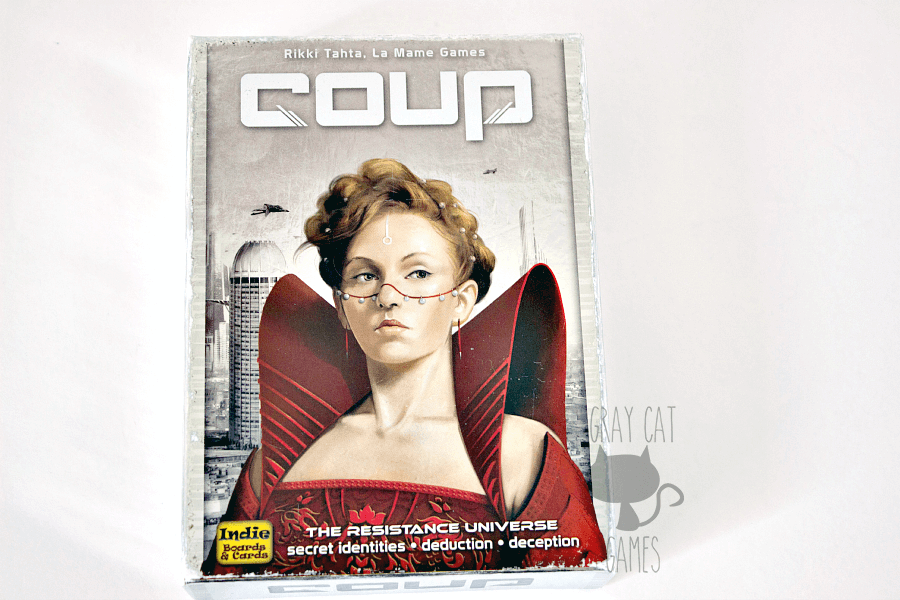 This post contains affiliate links.
Component Questions
How much space does the game take on the shelf?
Coup comes in a small box. It might just be the smallest game on your shelf for a long time! This makes it very easy to carry around and pull out when you need to kill some time.
Are there a lot of bits?
Coup comes with a deck of 15 cards and a pile of cardboard "coins" in a baggie. So there aren't that many bits to manipulate, and it's extremely easy to set up. Shuffle the cards, deal 2 to everyone. Give 2 coins to each player, and you're ready to go!
Are the components arranged in a well-thought-out fashion?
The cards fit very well inside the box. It's just tall enough to fit them. The coins are stored in a baggie that also fits the box well. Of course, there's no fancy insert, but with so few pieces you won't have any trouble setting the game up to play.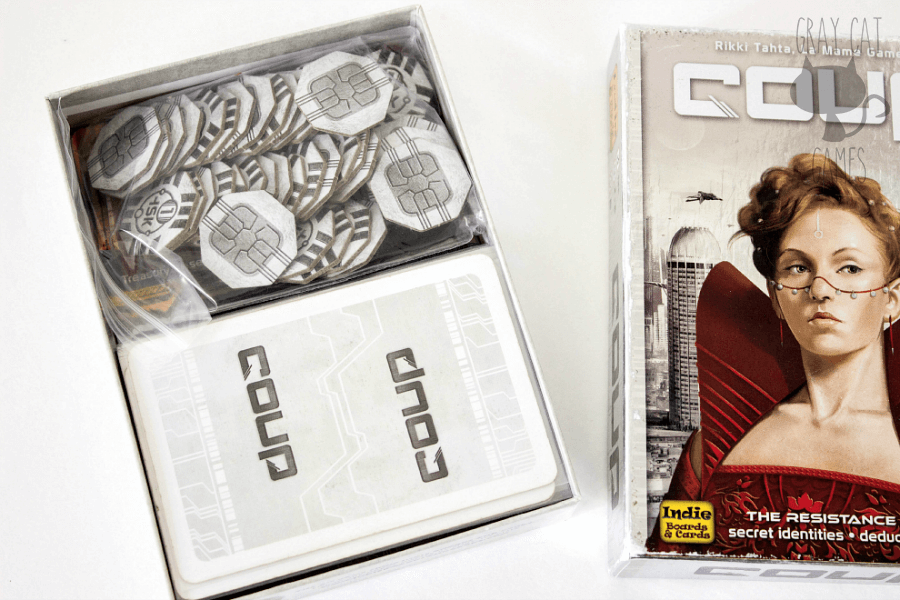 How do you feel about the quality of the pieces/artwork?
Coup is a very colorful game featuring interesting artwork on each card. The role cards are different bright, vibrant colors to help you match the card and its power at a glance. The cards themselves are nice stock and feel good in your hands. The reminder sheets and cardboard chits are great for reference.
If you're like me, you'll play this game a lot. And you play it in a variety of settings, like outside and in restaurants. Card sleeves go a long way toward preserving these cards. I found that these are the same size as the cards from 7 Wonders. Not standard size. Cheap sleeves will help you keep the cards from getting marked.
Gameplay Questions
What is the core mechanic?
In Coup, the object of the game is to be the last person with any influence. You are given two cards at the start of the game, each giving you a specific power and counting as one of your "lives." Lose both of them, and you're out.
On your turn, you can take one action from a list. This can be things like getting coins from the bank, stealing coins from other players, or trading cards with the deck. Other actions let you attack a player to try and kill one of their cards. Everybody can do basic things like take 1 coin from the bank, but the special powers are needed to do more interesting things.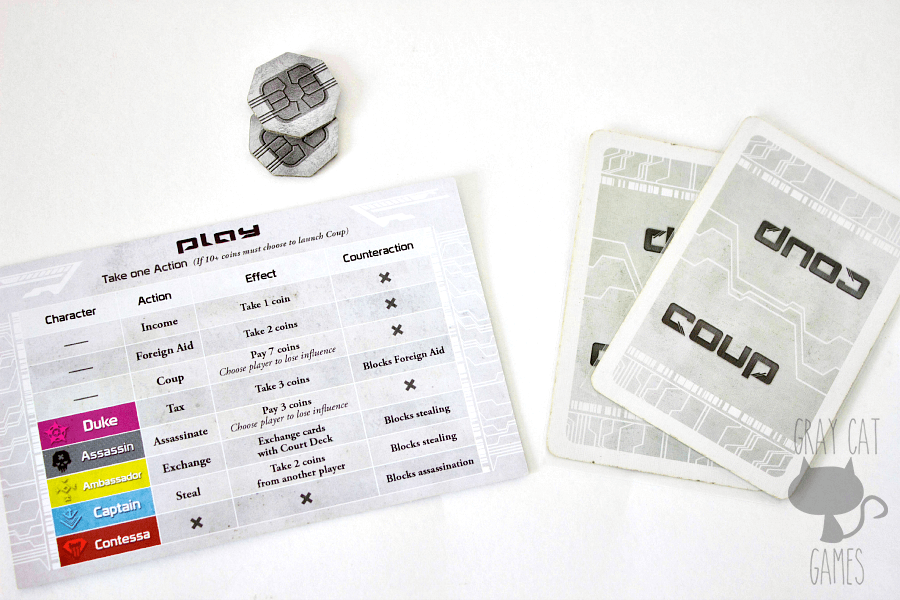 And that's where the game gets interesting. There are 5 possible role cards you might be holding, but you only hold two cards! The game encourages you to lie about what cards are in your hand.
For example, you can say, "I have the duke," which lets you take 3 coins instead of 1. Any player may call your bluff, forcing you to reveal your Duke card. If you can't, you lose one of your lives. But if you can, the accuser loses a card!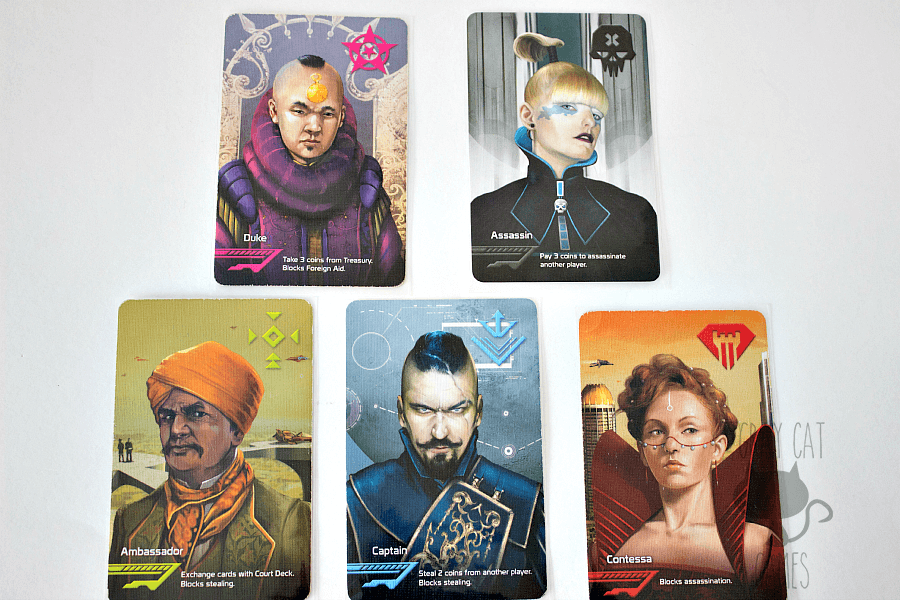 Once players reach 7 coins, they can initiate a coup as an action, forcing one player to lose a card from his or her hand. A coup can not be blocked (unlike an assassination attempt, which can be blocked by a Contessa). If you reach 10 coins, your next turn has to be to coup someone.
The game ends when only one person is left standing.
Is the game fiddly (ie, is there a lot of manipulating pieces/math that slows the game down)?
NO! The most you do is slide coins and shuffle cards. There's almost no math beyond counting, and the game plays extremely smoothly and quickly.
Are the mechanics fun?
I love the mechanics of Coup. The bluffing is ever-present, but players are often so scared of losing a card that it can be very easy to get away with a lie.
The interesting part of the game is once cards start getting removed from players' hands. These are removed face up on the table so everyone can see. Since there are only 3 copies of each card, you can start to deduce when someone might be lying. If you have an assassin card and see one is removed from the game, you might feel more confident in calling someone else's bluff when they try and use an assassin themselves.
This is the beautiful interplay of Coup. It's rather deep, considering it's only 15 cards, but there's a lot going on here. And the learning curve is quite gentle once players understand the actions and counteractions that can be performed. Players with a lot of experience (like me) have only a small advantage, as well, since there is a good bit of randomness to offset the strategy.
How many players does it support?
Anywhere from 2 to 6. I have played Coup in each of those player counts except for two players. I'm not sure how interesting it would be just to have 2.
How many players are best for the game?
I prefer the upper end of the player count. Minimum of 4, up to 6. I think the sweet spot is right at 5, though. This way, players don't have to wait too long for their turns, but there is less chance for getting ganged up on. So you feel a bit more in control of the situation. Plus, you'll see more of the cards, which lets you use more of your deductive reasoning to get an edge.
Is it difficult to learn?
It can be a little weird the first time, figuring out which character does what. I know when we first introduce people, they'll often just say, "I'm blocking your assassination." But you have to say with what card you're blocking. When someone points that out, they have to look at their sheet to remember who blocks Assassins. Which makes it pretty clear that they're bluffing.
(By the way, if you get called out bluffing a Contessa when someone attempts to assassinate you, you're completely out of the game. You lose one card for lying and getting caught. You lose the other because the assassination goes through.)
However, a round or two is generally enough time to figure out all the rules. Especially since cards come with their effects printed in the corner.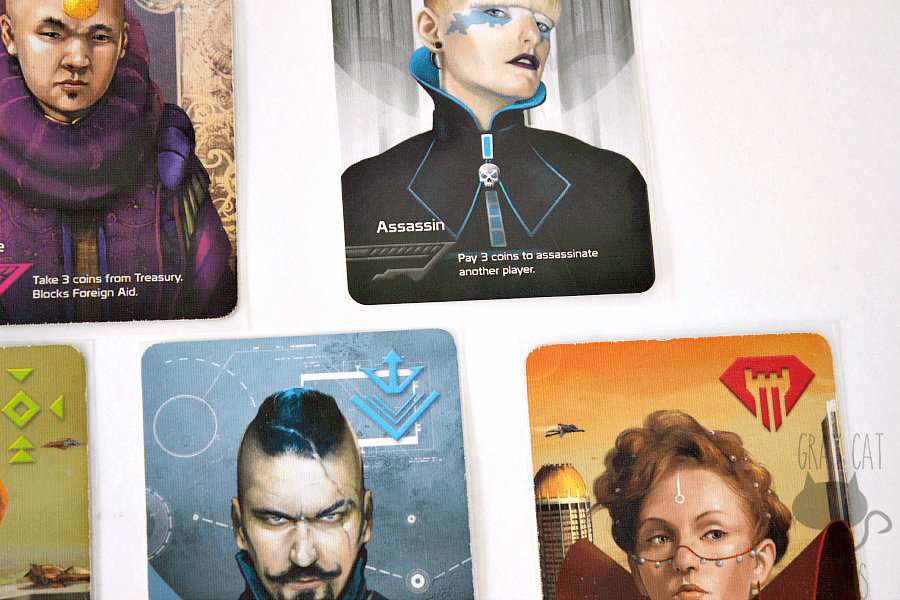 Replayability Questions
Would you want to play this game each week?
Yes, I would play this game every week if given the opportunity, though maybe not with just anyone. People who take a long time to make their decisions can bog the game down a bit. Also, people who get upset if you attack them might not enjoy Coup so much. It's not for angry people!
How many times would you like to play it in a given gaming session?
I almost never want to play Coup just once. If I had it my way, I would probably play Coup like you play Love Letter. The winner of a game gets some kind of point, and you play until someone has a certain number of points.
Coup has tons of replay value, and it plays in about 5 to 15 minutes, depending on the number of players. So there is plenty of opportunity to get multiple sessions in!
Concluding/Misc Questions
How expensive is the game?
Amazon currently has the game for about $12, though it lists at $15. Man, you won't find much more value than that. I don't see myself getting bored with Coup, even if I play 100 more times. There's one expansion available at this time, as well, (Reformation) which extends both the player count and the variety. It is, overall, a great little package, one that goes to all my gaming meetups.
What do you want people to know about this game?
Coup is awesome. I haven't met too many people that weren't really into it from the first game. You may want to look into investing in some card sleeves (65 mm x 100 mm) to prevent cards from getting marked. It sucks when someone can tell you're holding an assassin by that little stain on the card from that time you played Coup over drinks!
Who do you think would most enjoy this game?
Coup is a game for anyone that can handle a little cut-throat action. Even if someone doesn't care for it, you can often convince them to jump in…because, hey, it's only 5-15 minutes of your time. I think Coup is an essential game for everyone's collection because it fits the "filler" role nicely, and it can be used as a more in depth experience if you play it multiple times.
If you like Coup, you may also enjoy: