Castles of Mad King Ludwig is a tile-laying game that requires you to think ahead and outmaneuver your opponents. It combines a lot of different mechanics into a very enjoyable game for two to four players.
If you didn't guess it from our Carcassonne review, Chelsey and I have a fondness for tile-laying games. There's something fun about the randomness involved in them, the need to adapt your strategy as new tiles come out. So Castles of Mad King Ludwig looked interesting to us.
We heard that this game was similar to another game called Suburbia, but neither Chelsey nor I had played it. On top of that, the other reviews I could find on Castles didn't really sell the mechanics to me very well. Still, the theme, building a crazy castle, was very interesting, so we took the plunge.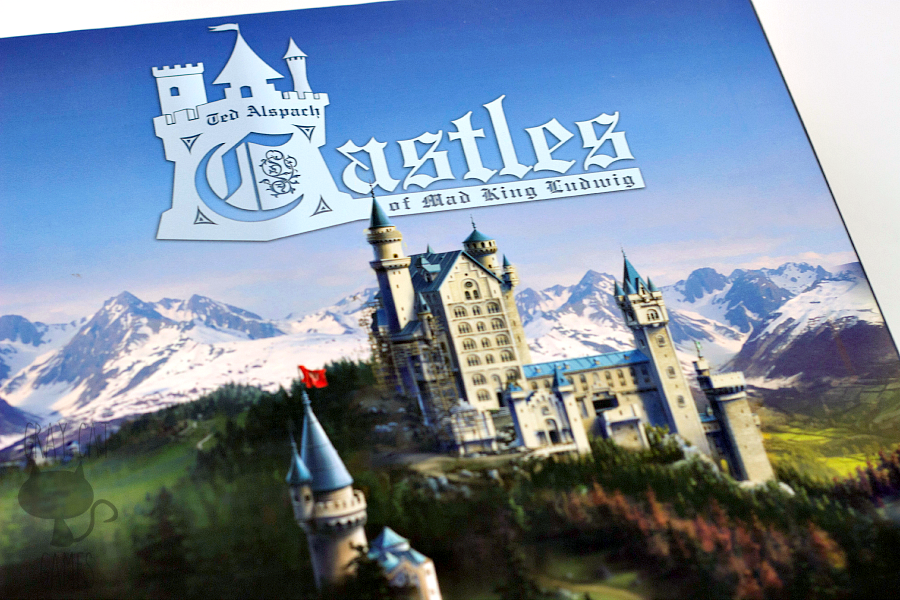 Component Questions
How much space does the game take on the shelf?
Castles of Mad King Ludwig comes in a fairly large box that will take up some shelf real estate. It's not a huge amount of space, but you'll notice it! The beautiful picture of a Bavarian castle does make a nice impression, though.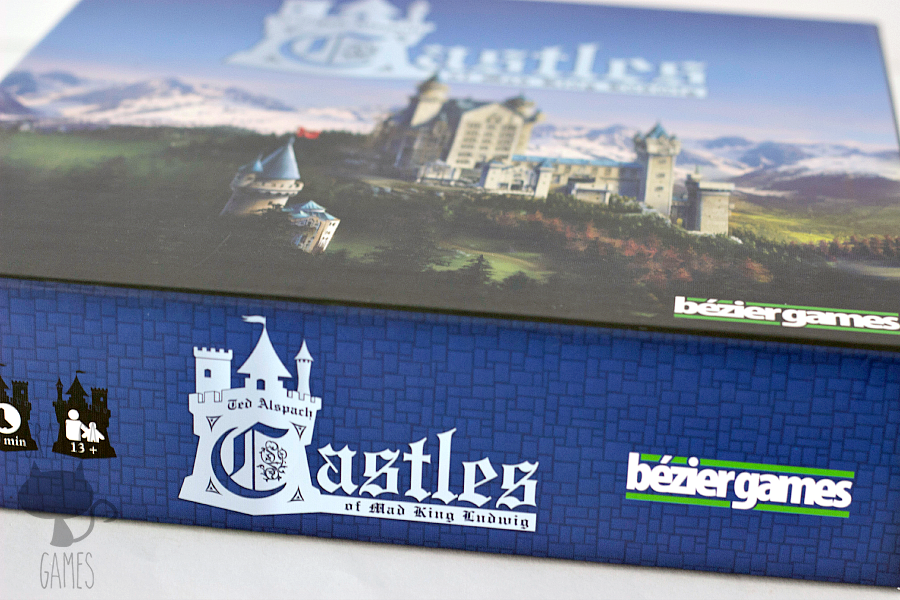 What kinds of materials are in the box? Are there a lot of bits?
Castles of Mad King Ludwig comes with tiles of varying sizes that will need to be stored in the box.  Other than that, you'll get a few small pieces for score keeping and several larger boards that are used in the game.
Are the components arranged in a well-thought-out fashion?
Castles comes with no insert at all, which is a little unusual compared with many other games. In this sense, it feels like a big empty box. Where Bezier games really shined, though, was in the inclusion of a ton of little plastic baggies to help you sort out your pieces and cards. I love it when companies do this, as it makes organizing so much easier. As it stands, you'll be able to store things without too much trouble at all thanks to this considerate move by the game maker.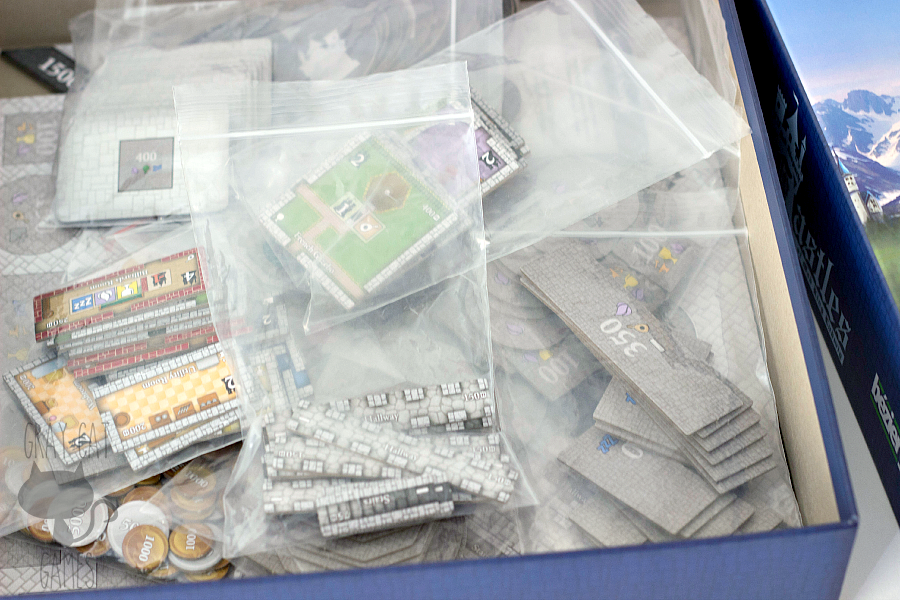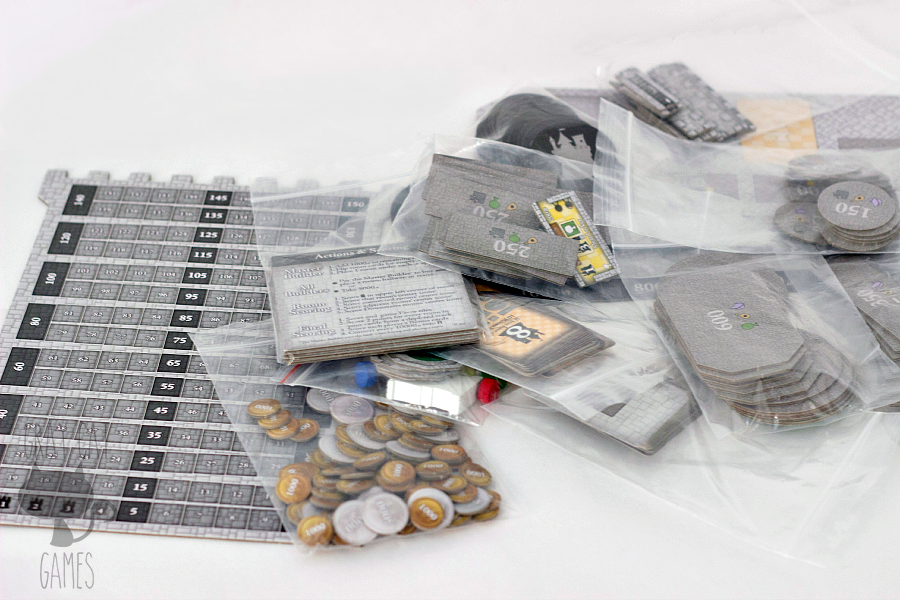 What do you think of the quality of the components and artwork?
The artwork and components for this game are great. I already mentioned that the game box looks beautiful. The graphics in the game are a little more stylized than photorealistic. Each tile has a room, like a bowling alley or a dungeon, which is drawn very well. The pieces are mostly made of thick, high-quality cardboard. I don't see durability being an issue for this game.
Gameplay Questions
What is the core mechanic?
In Castles, players are buying tiles to place in their castles. You pay Marks for each room and set it so that one of its doors connects to a door from another room. Whenever you play a tile, you score it based on the number in its top left corner, and then you look at its middle section to see if you get more points. Oftentimes, you'll get a few extra points for connecting the room to a room of a specific color.
Throughout the game, you're trying to "complete" these rooms by occupying all their doors, which gives you bonuses that depend on the color of the room (brick-walled "activity" rooms give you five points when they are all closed up, for example).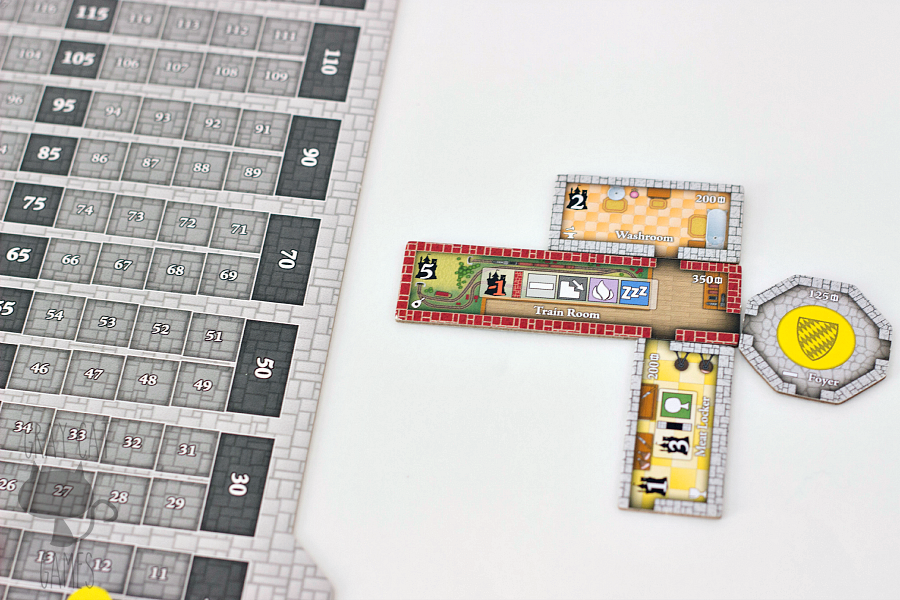 But there is another aspect to the game that adds a lot of depth. The tiles that are available to buy are arranged on the price track by a master builder each round. This master builder essentially sets the prices for the rooms, and each player pays the master builder. In this way, a player can strategize against opponents by making a room he or she needs more expensive to get more money. You can even put certain rooms out of someone's reach! 15,000 Marks is a lot of money to spend on a single room.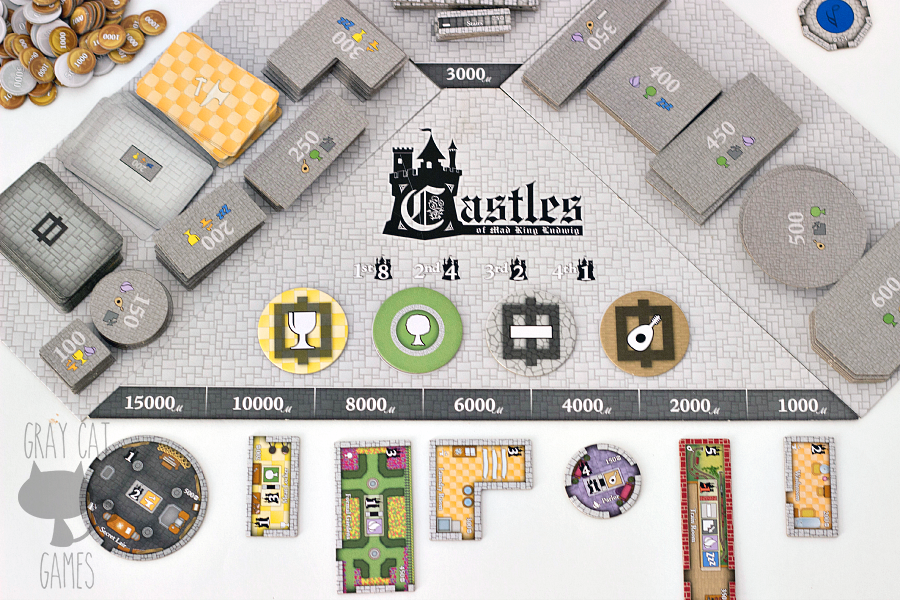 At the end of the game, there will be certain bonuses that players compete for, such as "number of yellow rooms" or "most circular rooms." These are randomized at the beginning of every game, so it changes the game a lot.
Is the game fiddly (ie, is there a lot of manipulating pieces/math that slows the game down)?
There's a fair amount of piece manipulation in Castles. I don't think it ever gets to feeling tedious. The game tends to move quite quickly. The only part of the game that feels tedious is the setup. Shuffling and laying all the stacks of tiles can take a bit of time. However, since things are well organized, it doesn't present much problem. All in all, I don't feel this is the most fiddly of games I own.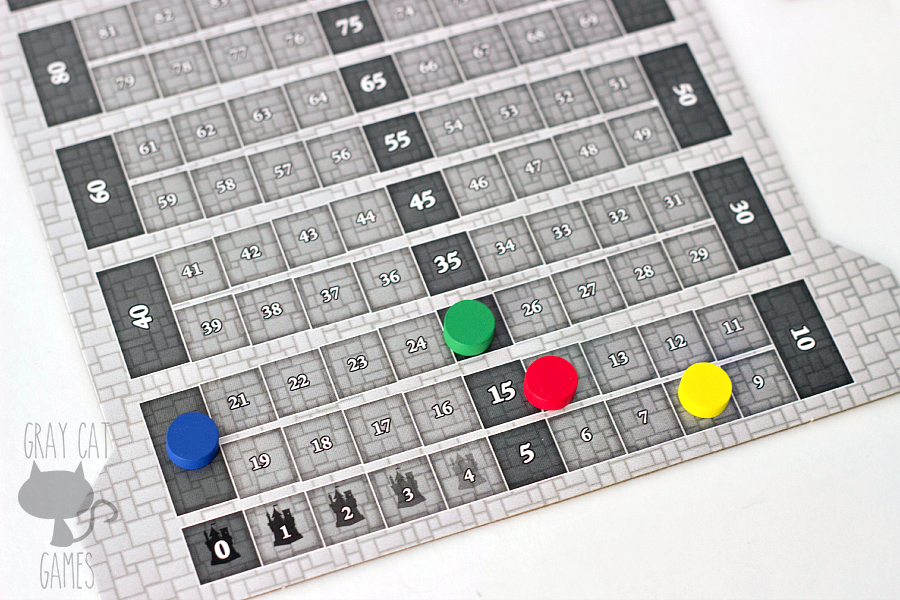 Are the mechanics fun?
Oh my, yes. Both phases, building and setting prices, are a lot of fun! I like the process of building the castle, as you watch everything expand and your score go up. It's satisfying in a primal, playing-with-legos kind of way. When you are the master builder, that's how you're going to make your money for future building, so it requires you to study what your opponents are doing and adapt. So you get the fun, tactile parts of the game mixed with some deeper strategy, and it's a great-tasting mixture.
How many players does it support?
Anywhere from 2 to 4.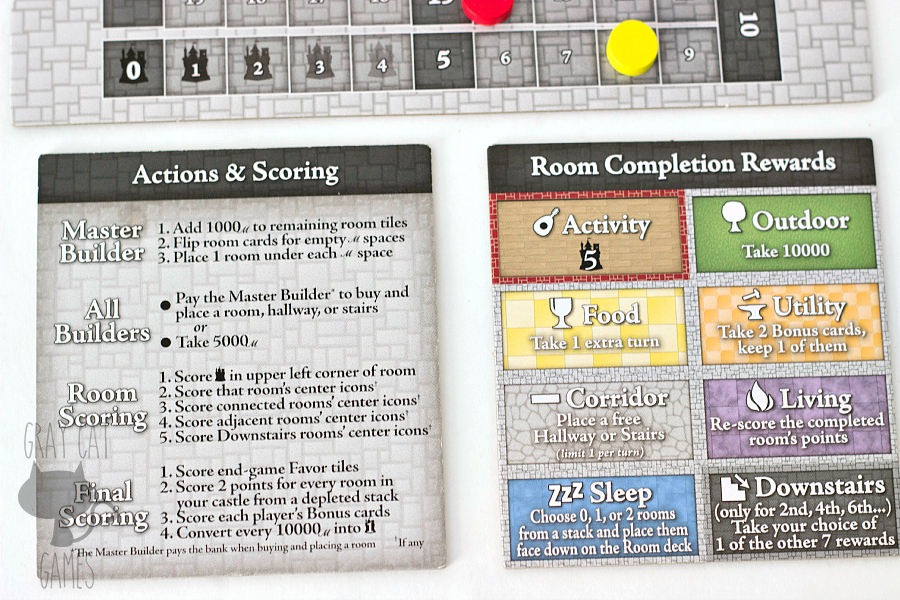 How many players are best for the game?
This is a tough call for me. I've liked it at every player count. Two-player Castles makes for a more strategic, dance-like game, with the players having only a little bit to pay attention to. This means you can anticipate your opponent's moves. In four players, it's much harder to predict how the prices you set will play out, unless you take a long time making decisions.
Still, with 4 players, you see so many new tiles, and there is more chaos. It makes for a more dynamic game. I think I'd have to say I've had the best time playing with 4 players. It feels like a meatier experience. Two players is great, though, and Chelsey and I have pulled this one out a lot to play together.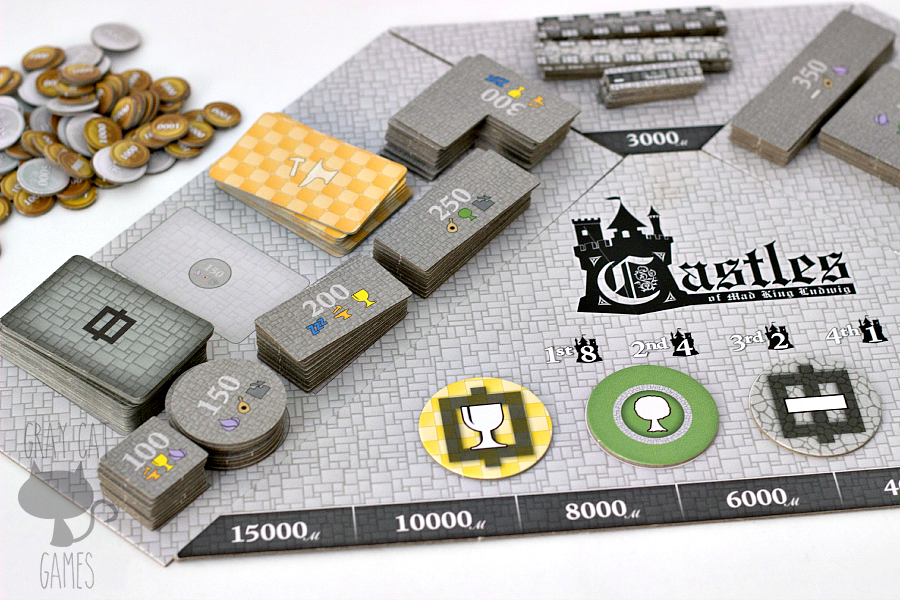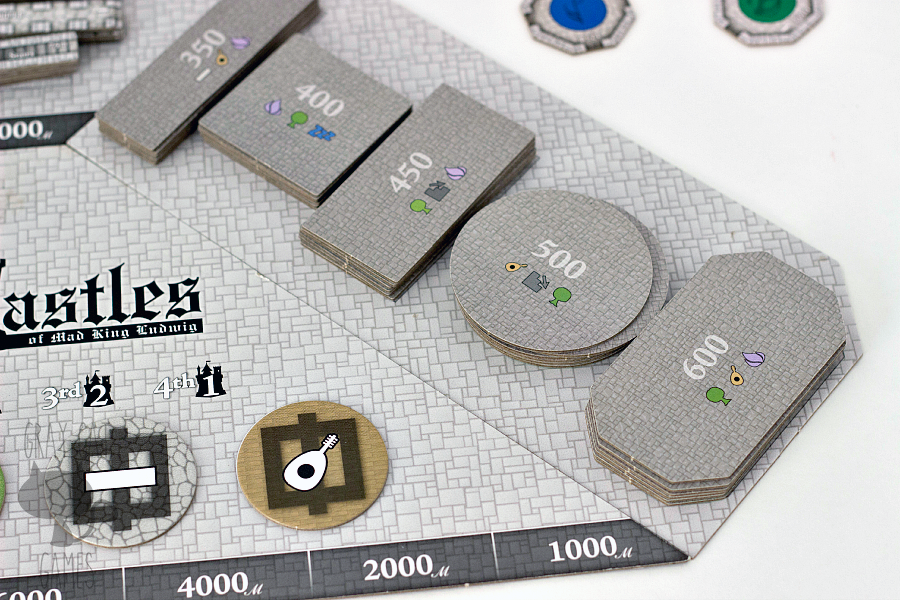 Replayability Questions
Would you want to play this game next week?
Yes. I'm ready to throw down Castles most any time. Once per session tends to work just fine with me. If you play too much too often, you see everything and kind of lose the fun part of seeing new things.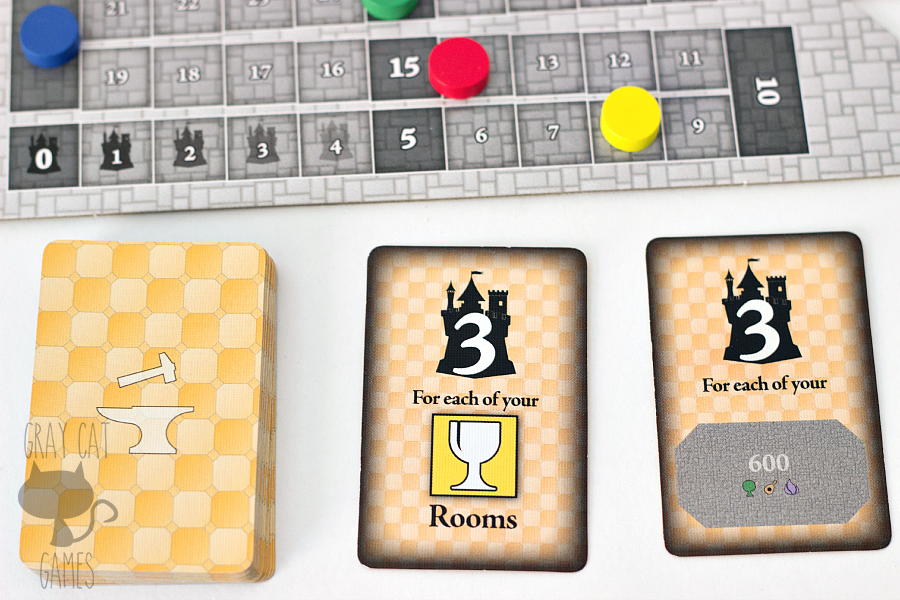 Concluding/Misc Questions
How expensive is the game?
We picked up Castles for the biting $60 MSRP. I think it is worth this price. Even so, you can find it on Amazon for just about $40, which puts this game into must-have territory for Chelsey and me. It's definitely worth the price at that point.
What do you want people to know about this game?
Castles was a bit of a surprising hit for me. I ended up liking it a lot, and I have not yet turned down an opportunity to play it. There are a lot of tiles here, but I do find that the options start to get a little stale. That's why I'm so excited about the "Secrets" expansion that's coming out later this year. Castles offers a lot of depth with a really neat, historical theme. And I have been able to scratch a lot of peoples' itches with it. The more casual people like putting things together with not-to-deep mechanics. The more sophisticated players like to search for strategies to maximize points and money.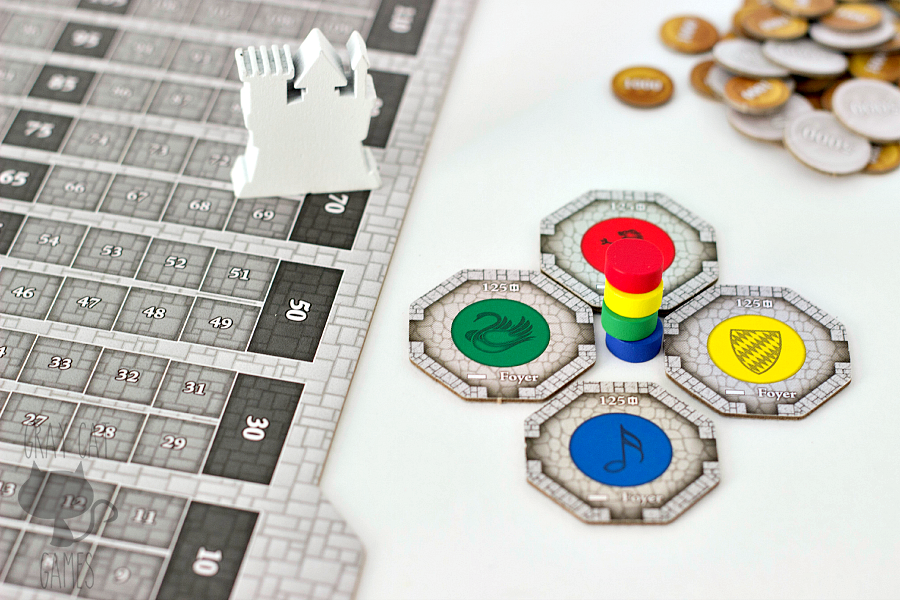 Who do you think would most enjoy this game?
Anyone who can handle a bit of strategy and planning would be able to get something out of this game. It offers "euro-style" sensibility with some American-style drama ("You stole my piece; I will get my revenge" kinds of moments abound). It would be especially fun for people who like to see things being built, because you get a fun bit of satisfaction when you look on your work at the end of the game.
If you like Castles of Mad King Ludwig, you might also enjoy….