If board games are something you want you and your family to get into, here are a few that could convert the Minecraft addict.
OK, let me preface this by saying there are really no board games that are totally like Minecraft. These games have a similar idea, but a video game and a board game are two very different things. Minecraft offers worlds you can manipulate and the game, essentially, has no real point. A lot like Legos…but I'm not putting Legos on this list. (Zach's exact words, though, are, "Legos ARE Minecraft." So if you want to get your kids away from the screen, Legos are probably the way to go.)
The thing I'm taking from Minecraft though is the whole, "Finding resources and building things out of them" part. Some of these games are mostly about collecting, some are mostly about building. But here's the biggest thing: they all sound incredibly dull.
Before I knew what these games were, I was skeptical about going into all of them. Turns out, the dull-sounding games are that way because they're so simple. But they are LOADS of fun. In fact, the games on this list are some of my favorite games.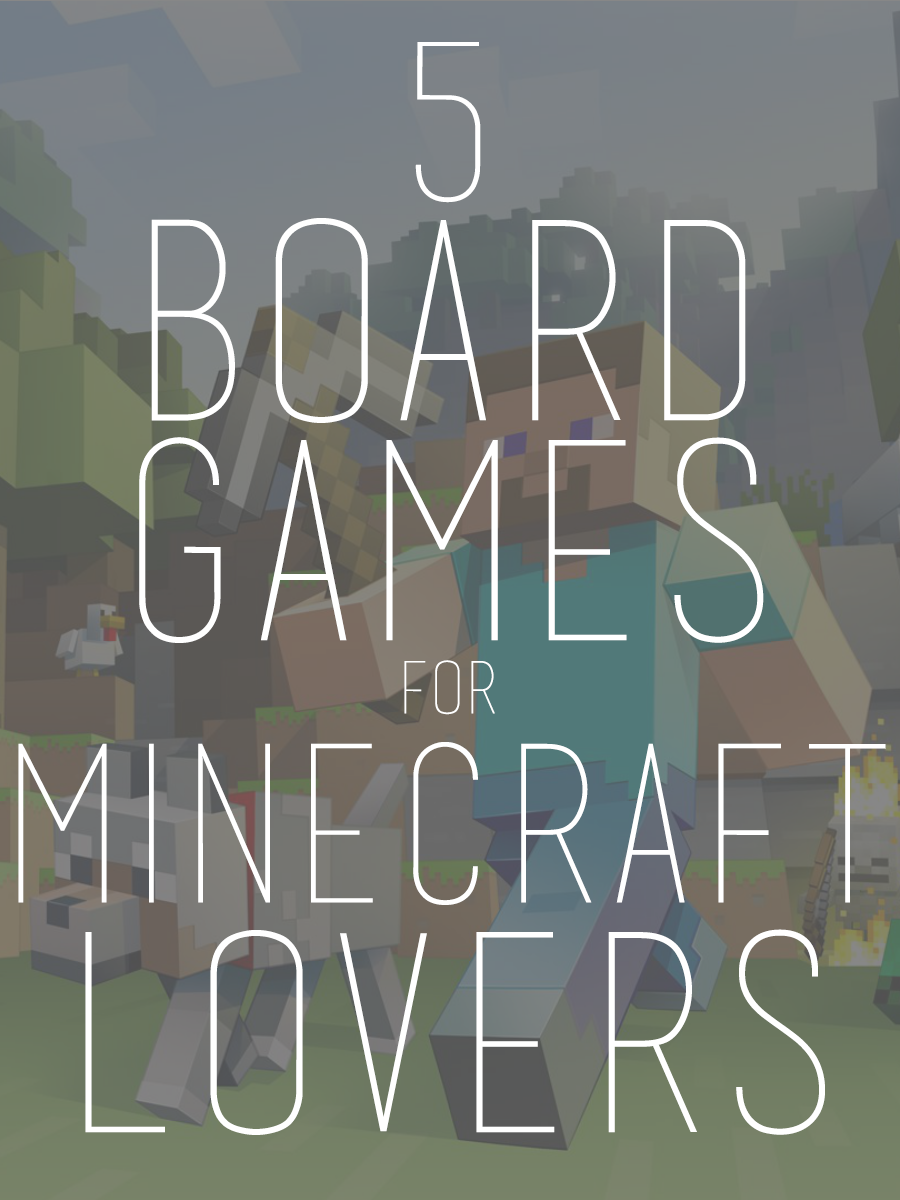 This post contains affiliate links. 
This is game is based off of a campaign from Dungeons and Dragons that was set in a town called Waterdeep.
The game is simple. You pick a lord or a lady, that lord or lady gives you a bonus at the end of the game if you have whatever the card you picked says. So say I get 4 extra points at the end of the game for every building I own…I'm probably going to buy a lot of buildings.
To buy buildings and complete quests, you move little meeples around the board, going to different parts of town, and collecting things from wherever you land. To do so, you just put your player piece on that spot and take whatever is there. If someone else is on the spot you need, though, sorry. You can't land on a spot that has already been used (unless someone has bought the building that says you can). So the game gets pretty competitive.
The game is usually easy to set up, but more complicated to tear down. The box comes with dividers, so the game organizes itself (which I love) and that takes a good amount of time. As for age, the box recommends 12 and up, but some people say they've seen kids as young as 8 play this game. They just need a lot of adult supervision and help with developing and sticking to a strategy.
There is one expansion, called Scoundrels of Skullport, that adds a lot. But the base game alone will keep you entertained for a long time. There is also a Broken Token Organizer for it, which I LOVE!
If you want to try the game without spending as much for the physical copy, a mobile copy is available on iTunes. Once you buy one version, you can use it on both your phone and your tablet (unlike Ticket to Ride).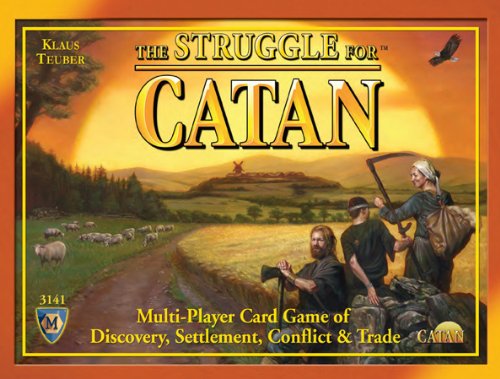 If there is any one game you've heard of, it's probably Settlers of Catan. You use resources to build roads, settlements, and cities and you compete for control of the board.
Struggle for Catan is a watered-down version of that. It's much, much faster to set up because it's a card game. You can play with only two players (which is why Zach and I chose it over Settlers). It's also much cheaper than Settlers, since it's not as big. 😛
Nearly every person I've played this with has said they prefer this over Settlers. I haven't played Settlers in a long time, though, so I won't say either way.
This is a great game if you want something quick–usually a game lasts around 15 to 30 minutes, but it can go longer. It's meant for 2-4 players, aged 12 and up.
I don't believe there are any expansions for this. There is a game called Rival for Catan, which has an expansion called Age of Darkness, but they're a different game. I haven't played Rivals, but people say it has more depth.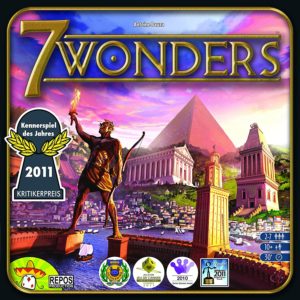 This is one of our group's favorite games. We wind up playing it a lot because it's one of only a handful of games (that aren't party games) that fits more than 5 players (it plays 3-7). There is a 2-player version called 7 Wonders Duel (which has a Pantheon Expansion).
It's quick to set up, quicker to tear down, very easy to play (ages 10+ and game time only lasts around 30 minutes), but not so easy to win. Everyone starts with seven cards in their hands. You pick a card, reveal that card (you can also just sell it or use it to build your wonder, in which case you don't show it to anyone), and then you pass your hand to the person next to you. This is what makes the game so competitive. You know what cards you're giving up, but you don't know what cards you're about to be given. So deciding which card to build is incredibly difficult at times.
This game is actually more like the Civilization video games and less like Minecraft. But when I think of using resources to build things, I think of 7 Wonders. After a while, you can only reveal cards that use the resources you already have–which means a lot of thinking ahead. And if people notice what kind of faction you're going for (military, science, guilds, etc.), they can keep you from getting those cards, though often at their own expense.
It's a great game and it can go fairly quickly once everyone knows how to play. It's got a few expansions–Leaders, Leaders Promotional Expansion Bundle, Cities, Babel, and the Wonderpack (which just comes with more boards). There is also a play mat to help keep you organized as you play. I'd love to have one, but they're kind of expensive. -_- The Broken Token Organizer is awesome, though!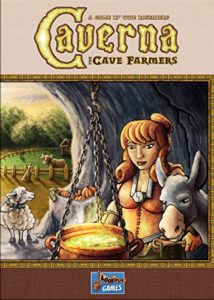 This is the type of game you only want to play once you're familiar with the genre. It's kind of like a sequel to Agricola, which is known for being complicated and long (estimated 2 hours game play). Caverna kept a lot of what people liked about Agricola, but sort of streamlined it, I guess. It's now 30 minutes per player (so not much better than Agricola if you want to play with more than 3 players). Also, it reminds me a lot of Lords of Waterdeep.
This is a rather complicated game to learn, but everything makes sense once it's explained. Basically, you are a family of dwarves and you have to take care of and feed your family. You do this by farming, mostly, but you can also get food through mining and selling rubies. If you want your family to grow, you also have to make your house cave bigger…and then there is a card you can use to "wish" for a baby. But be careful about your timing, because the more dwarves you have, the more mouths you have to feed. You'll find yourself sacrificing your cattle if you can't feed baby (and if you don't have at least one of each type of animal at the end of the game, you get -2 points for each one missing).
If you're reeling over the price tag, I know. It's about $90 retail (and if you see it being sold higher than that, put off buying it–since the game is so popular right now, it's selling faster than it can be produced, making it difficult to find. Once another shipment goes out, the price will go back down to retail). Also, the price is justified–this game has a lot of pieces and they're very nice quality. So don't think you're getting ripped off. Of course, lots of pieces = a beast to set up. But so much fun once you do!
This NEEDS the Broken Token Organizer. Trust me.
I love this game. When I describe it to people, every single time they look at me like, "How could you possibly think that sounds fun?" But once they play it, they love it. It is extremely competitive, as well. It's the one game we go in knowing there will probably be a lot of yelling. Screwing over other players is so easy and so fun. 😛
There are a ton of expansions, so here are the ones I love:
That is the order the expansions are supposed to be in…but I don't think it actually matters. If you want to buy all the expansions at once, there is the Big Box.
There are also different versions of the game, though. One is called My First Carcassonne, which is a way of introducing children (ages 4+) to the world of Carcassonne. It used to be called Kids of Carcassonne, but it was changed for legal reasons. There is also South Seas, which is an island version of the game (that I would love to play). And finally, there is Carcassonne: Winter Edition, which is basically Carcassonne with snow. Pretty, but I wouldn't bother with it, honestly. It's just one of those things to get if you want to collect them, but none of the expansions will match it.
There is also Star Wars Carcassonne which I want so badly.
As for the expansions you should get…we have two: Traders & Builders and Inns & Cathedrals. I also have The Princess & the Dragon on my iPad version. It's definitely interesting, but the first two are the only ones I think this game actually needs. We've had those two for a while and I have no desire to buy another expansion. Not because they're not fun, but because I feel like the game–as I see it–is complete. I'm sure there are many people who disagree.
Carcassonne is my absolute favorite game. Unlike all the other games on this list, you don't collect resources (except with the Traders & Builders expansion, but you don't do anything with them…they just count towards your points later). For that reason, I debated on not putting it here…but then I couldn't decide where to put it, so here it is. 😛
Basically all you do is build. You build roads, cities, monasteries, and farms. Once they're complete, you get points. That's it. Seriously. Like I said, it sounds boring, but it is incredibly fun. It only takes about 30 minutes to play. If you look at only one game on this list, Carcassonne should be it (but the rest are great, too).
So, none of these games are exactly like Minecraft. But if you or someone in your family loves Minecraft and you want to get them into board games, these are a great place to start. 
Oh, and if you want another video game that is like Minecraft, Terraria is great. Same concept, but Terraria is a platformer. (And I recommend just installing Steam, making an account, and buying it there.)
Are there any games you'd recommend? Leave a comment and let me know!