This post may contain affiliate links.
What better way to celebrate your inner geek by making your own customized board games? Bonus: you never have to worry about someone confusing it for their own.
I'm sure many of you will find this blasphemous, but I hate Risk. Not as much as I hate Axis and Allies. But close.
Zach, on the other hand, loves Risk. So when Risk Legacy came out, he was way more excited than I was.
To be honest, Risk Legacy is probably the only Risk I would ever consider playing. Because is there anything cooler than having your own custom board? No. No there is not.
And then Pandemic Legacy happened. Hooo boy, what a ride. The drawback to these legacy games, though, is that once you actually complete the game…you're basically done. You could try to play Pandemic on your custom board, which would be pretty cool if you ever get bored with vanilla Pandemic. But the experience of that first game can never be had again.
So, in the spirit of cool DIY games–but games that you can keep playing–I went looking for other ways to customize every day board games. Lots of people are doing it in tons of cool ways! I gathered up some of my favorites to share with you all.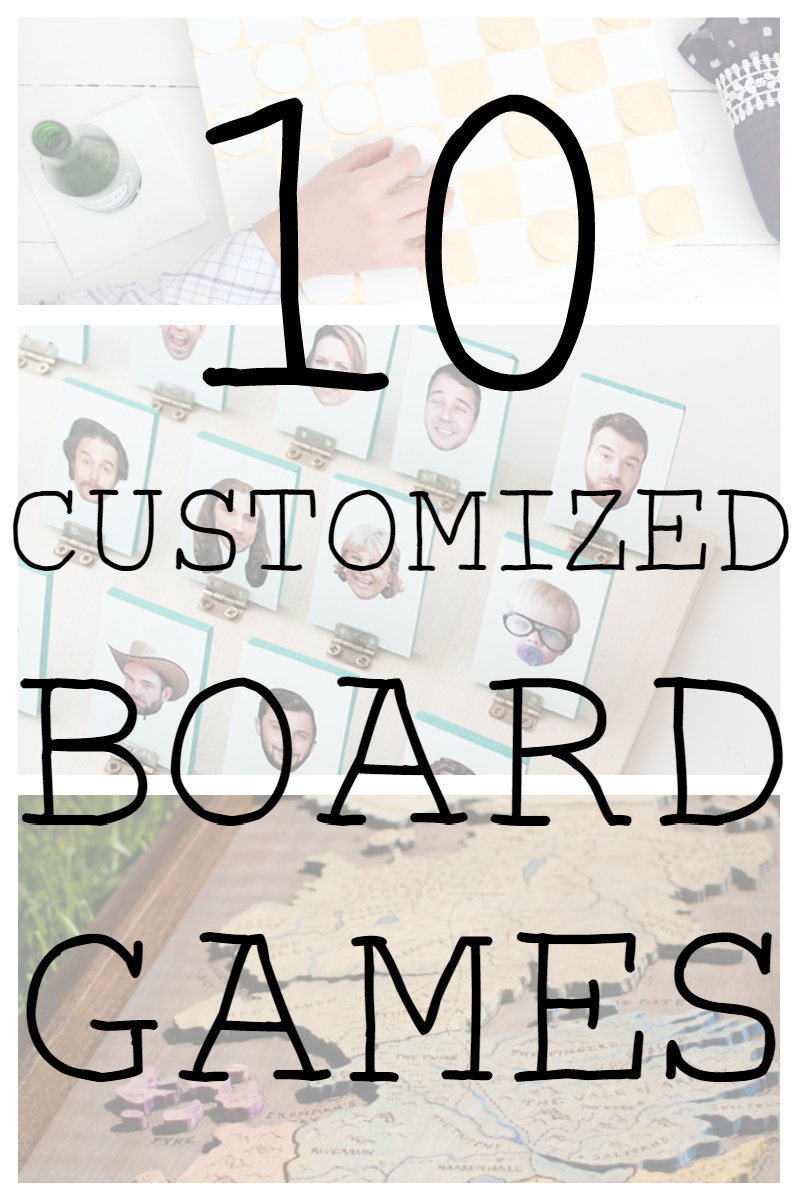 10 Customized Board Games

If you're not a fan of traditional-looking checker/chess boards (and I don't blame you), painting a cheap one is a great solution. This gold and white one turned out REALLY pretty!
2. DIY Darts from Lovely Indeed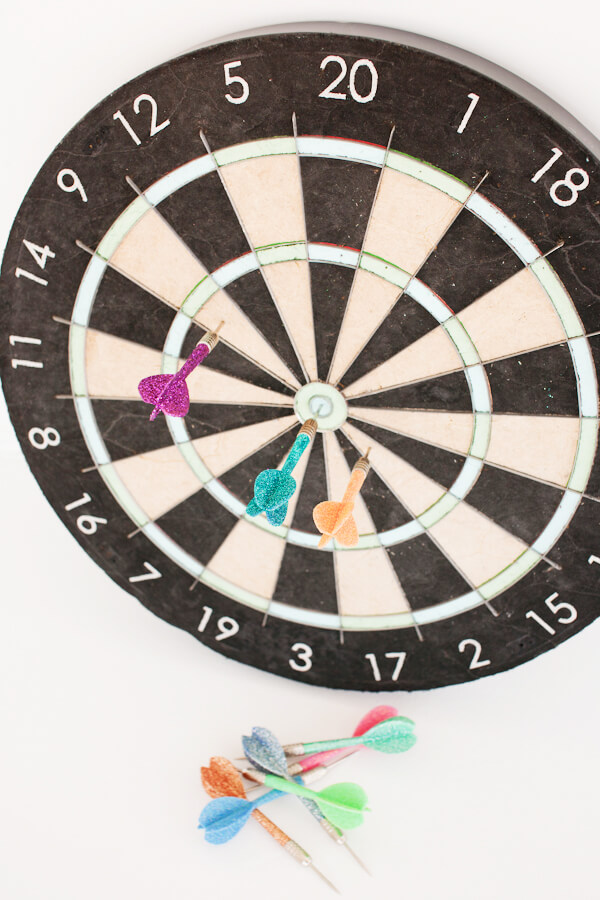 OK, so Darts is not a board game. But these just looked so pretty, I had to add them to the list. 😛 My only worry would be the glitter coming off onto your hand when you throw the dart.
3. DIY Guess Who from Almost Makes Perfect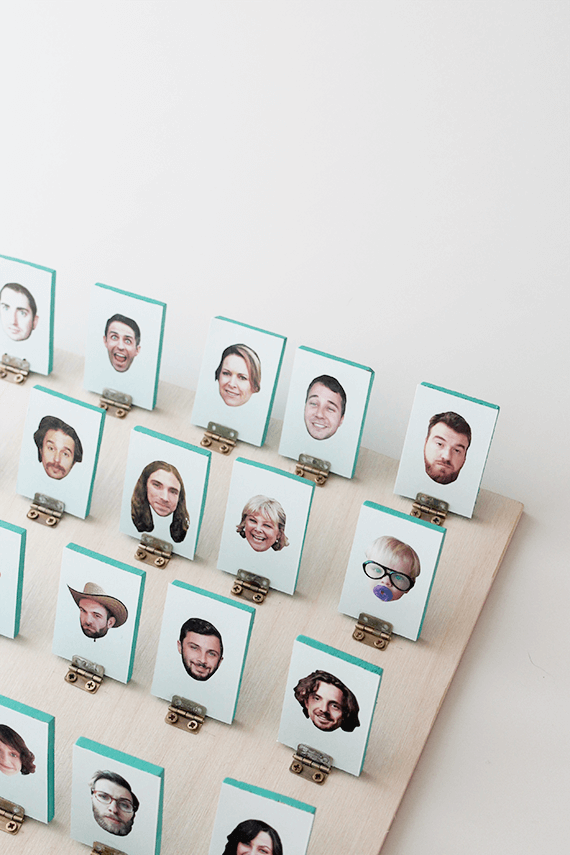 This looks so fun! But I get the feeling if someone on this board found it, they might not be so thrilled….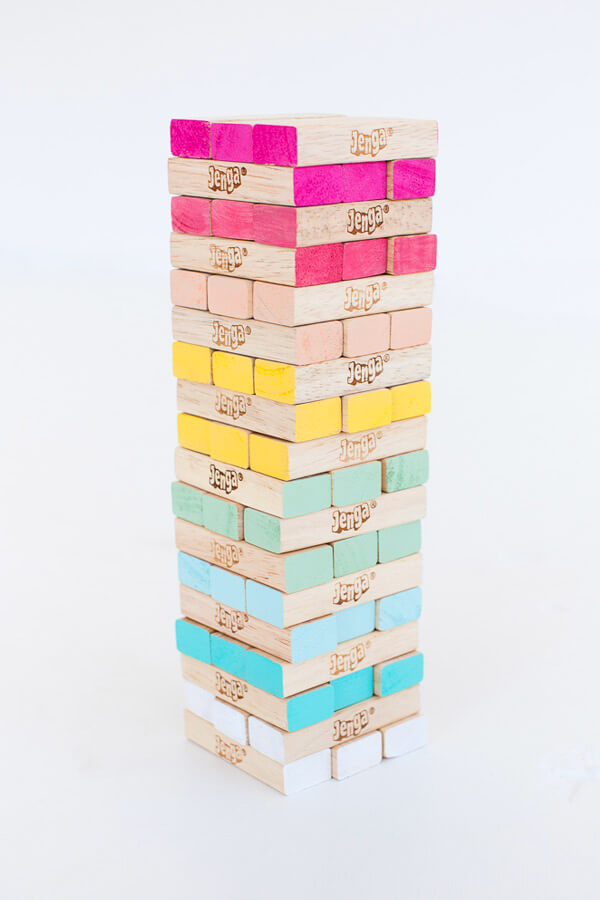 How pretty! This is a great way to make Jenga look a little less boring. But you would also have to put the blocks away in a certain order, wouldn't you? Beauty is hard work.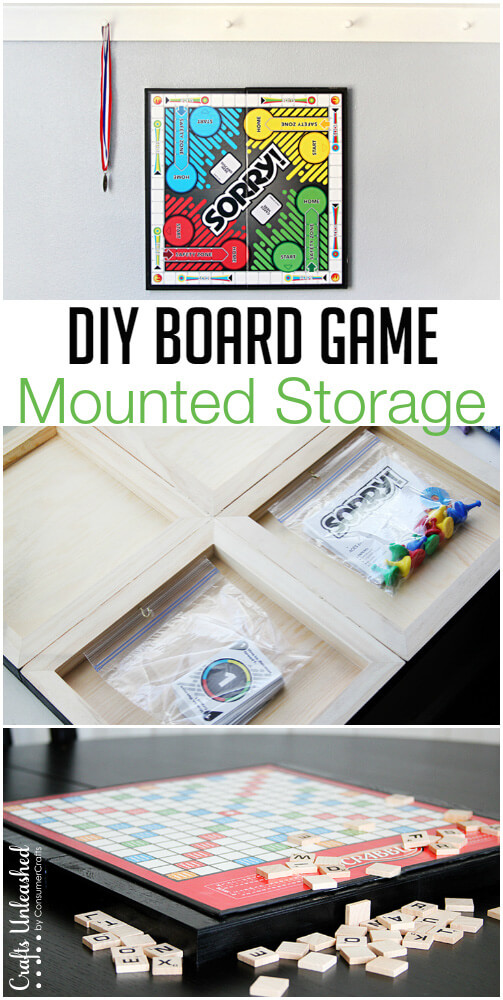 One day, I want to have a basement we can turn into a game room…and all of our favorite games will be hanging up on the wall just like this. That would make be incredibly happy.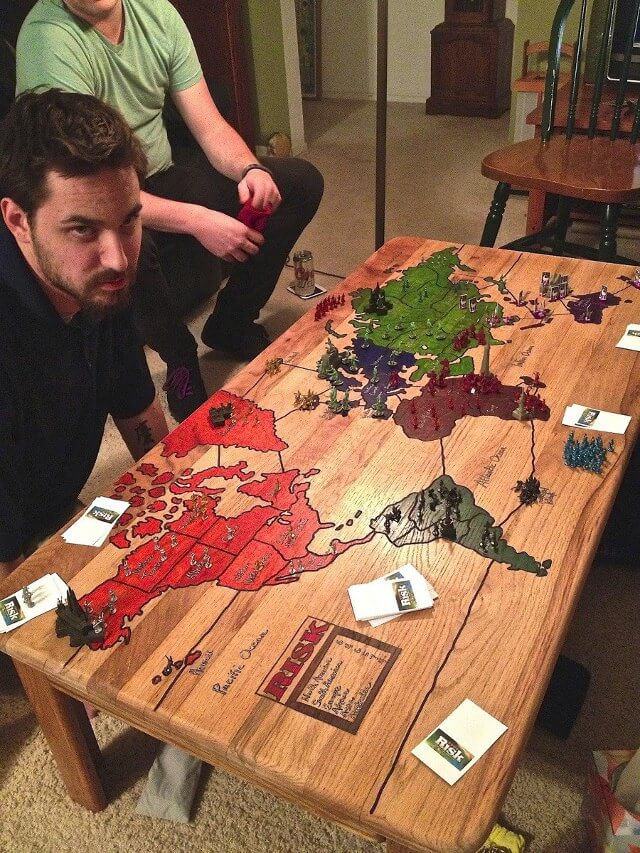 This is actually from Reddit (which they link to), but I linked to Laughing Squid because they have more photos.
No matter how I feel about Risk, this is AWESOME.
On the topic of Risk….

I was wrong earlier. I would ABSOLUTELY play on this Risk board. (This is actually supposed to be for the Game of Thrones board game. But I would use it as a Risk board, because…it looks just like Game of Thrones Risk.)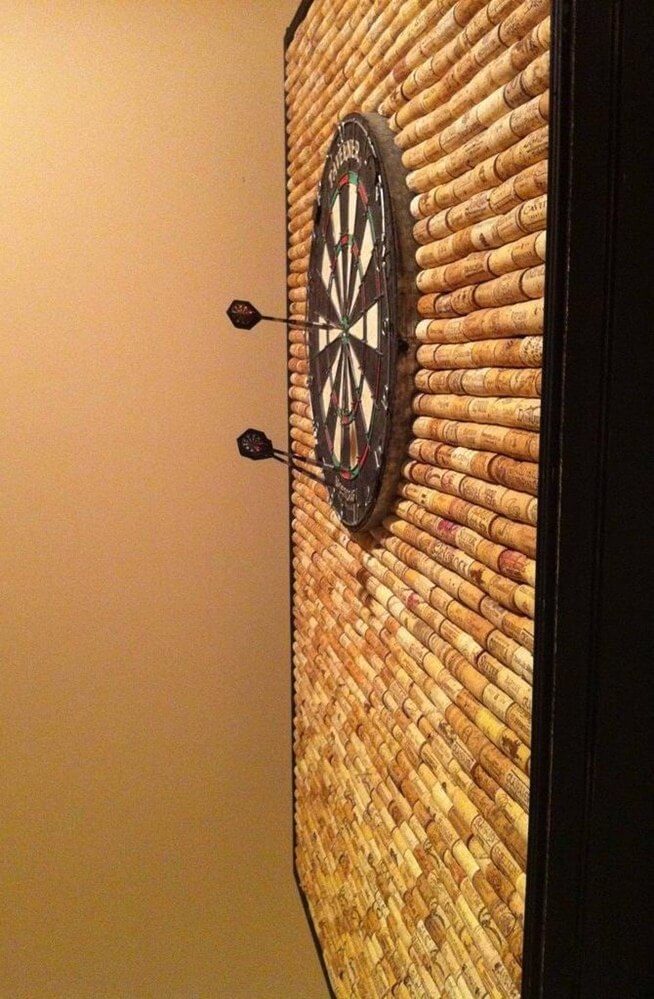 Protect your wall using wine corks! And if you don't want to have to drink all that wine, you can buy wine corks in bulk on Amazon. Let someone else do that heavy-lifting for you. 😛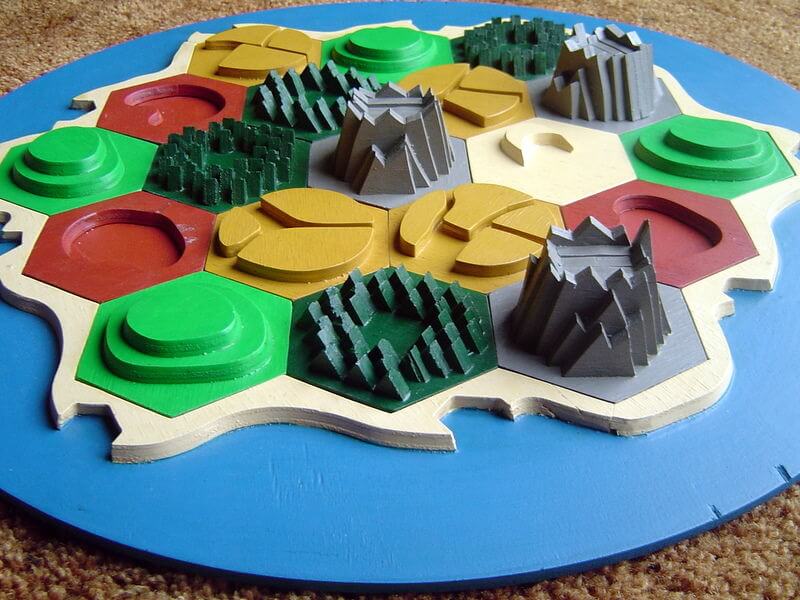 I'm not sure how to store this, but this 3D custom Settlers of Catan board is SO COOL!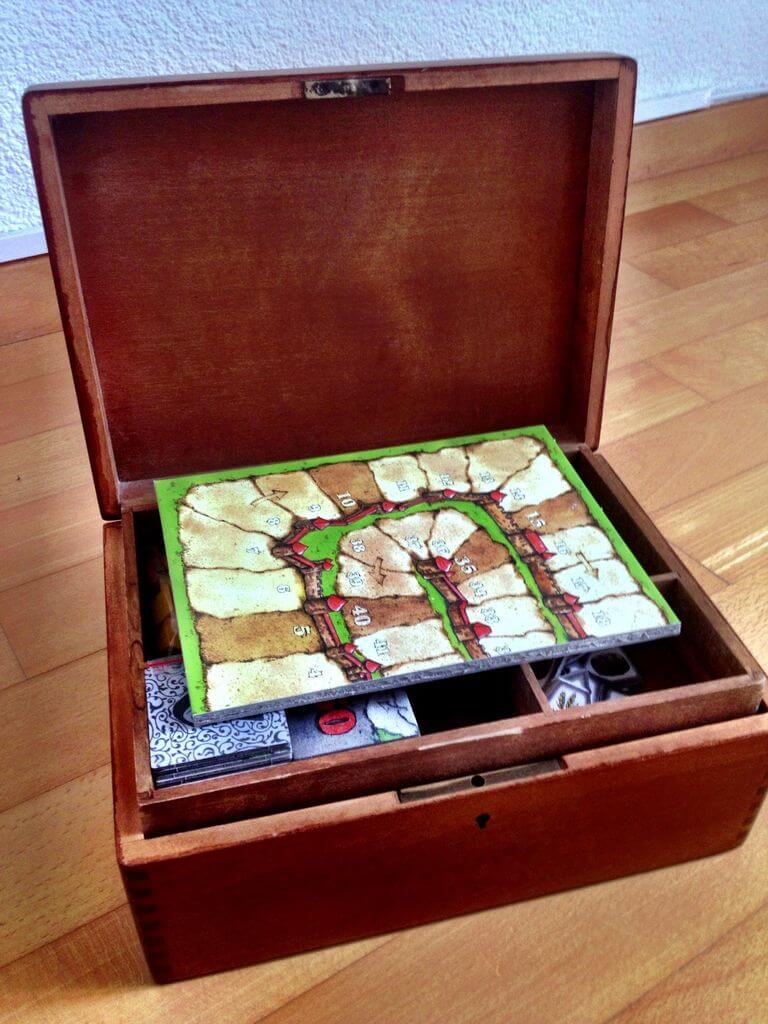 I keep buying expansions for Carcassonne and they're not fitting in the box so well. This would be a great solution to that problem.
The takeaway: customizing board games can be done just for aesthetic purposes, to make the game more unique to your own needs, or for practical purposes. So get out there and get crafty with your gaming experience!
Have you ever improved a game with DIY? Post it to our Facebook page or leave it in the comments!