If you're going to visit family for the holidays, you may need some ideas on keeping people entertained. These party games are perfect for a crowd!
For this post, our definition of a "party game" is something that will support more than 4 people. Also, I'll be listing prices, but I'm getting them from Amazon and I cannot help it if they change after I publish this post or if they're a different price somewhere else. I'll try to keep it updated.
Bonus: NONE of these games are Cards Against Humanity. It's a fun party game, sure, but it gets old when it's the only one anyone thinks to bring. After about 5 rounds, I'm done.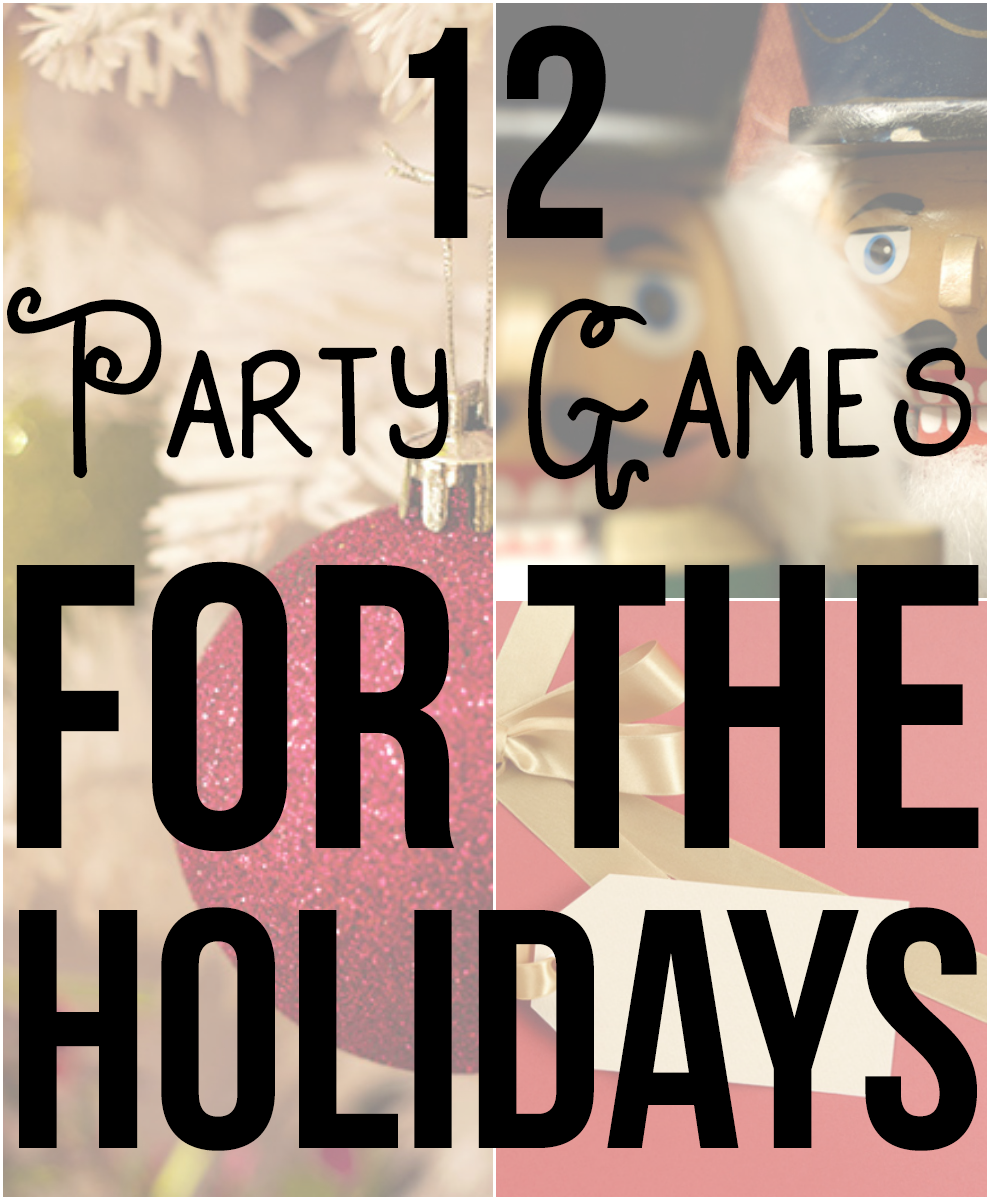 12 Party Games for the Holidays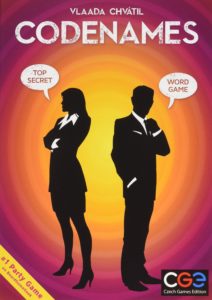 This is a team-based game. Each team has a leader who is trying to get their team to guess which words they have. The problem is keeping them from guessing the words the other team has.
It's a quick game and not difficult to learn. There's also an adult version (Deep Undercover) and a picture version (Codenames Picture) where you're guessing a picture instead of a word.
Players: 2-8+ (Best: 6-8)
Ages: 14+
Length: 15 minutes
Price: $13.99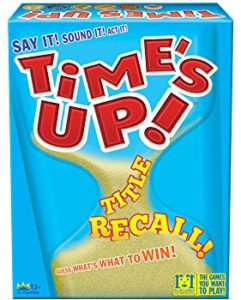 It's a mix of Taboo and Charades. The game is split into three rounds, all rounds use the exact same cards.
In the first round, you can say anything you want as long as it's not on the card. Your partner has as many guesses as it takes, or until the time runs out, to guess what's on the card. In the second round, you can only say one word, your partner only has one guess. In the third round, you can't say anything (but you can hum or whistle), your partner still has only one guess. The team that guesses the most correct cards wins!
What I love about this game is that the amount of knowledge you have matters less than relating to your partner and making associations.
Players: 4-18 (no, that is not a typo–Best: 6)
Ages: 12+
Length: 60 minutes
Price: $15.77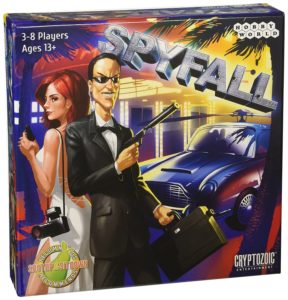 In this game, everyone is at a certain location, determined by the cards. One person is the spy, but no one knows who it is (and the spy doesn't know what location they're all at). They have to figure out who the spy is without giving away the location. To do this, each player will ask another player a question. So, in our group, one of the first questions might be, "How would you do your laundry here?" The person will then answer, vaguely, and then they'll ask someone else a question. This continues until the time runs out, the spy it outed, or the spy is able to guess the location. (There is also a sequel.)
Players: 3-8 (Best: 6)
Ages: 13+
Length: 15 minutes
Price: $19.95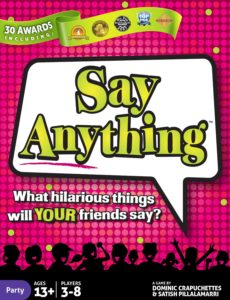 You ask a question posed on a card (like, "What is the most important invention of the last century?"), and everyone else tries to guess what your answer would be. You will secretly choose which answer you like best, but don't announce it yet. Everyone else will vote on which answer you're likely to choose (so no duplicates), and then you'll reveal which one you picked. The person whose answer you chose gets a point, and the people who voted on their answer gets a point.
The game is over when the scorecard is filled up.
Zach says this is his definitive replacement for Cards Against Humanity.
Players: 3-8 (Best: 6-8)
Ages: 13+
Length: 30 minutes
Price: $14.99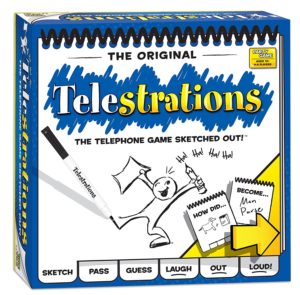 This comes in mutliple varieties: 6 player, 8 player, 12 player.
The concept is simple: choose a word from a card in secret. Then the notepad will get passed around with one person drawing the word, the next guessing what the drawing is, and so on.  This will continue (guess, draw, guess, draw) until the notepad gets back to the first player. Then you'll see what the last guess was. Sometimes it's impressively spot on, other times it's hilariously wrong.
Anxious about being terrible at drawing? Good news: that just makes it more fun and unpredictable.
My recommendation if you buy this game is to also buy dry erase markers. It comes with some, but they're terrible. We love the markers that have eraser caps.
Players: 4-12 (Best: Whatever the max for your copy is. This is always best with more players.)
Ages: 8+
Length: N/A
Price: $15.95, $28.98, or $34.20 (depending on the size you get)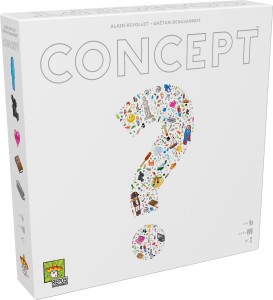 I've already written a review of Concept, so I'm not going to waste your time here.
This game is GREAT. It's so fun. If you play casual mode (one person knows what's on the card, everyone else is guessing, no teams are involved), you can just toss people in as they walk through the door. So it's great if you're at a party and waiting for all the guests to arrive. Or if they don't want to play, they can watch all of you yelling at each other. Win-win.
Players: 4-12+
Ages: 10+
Length: 40 minutes (or whenever you decide to stop)
Price: $48.39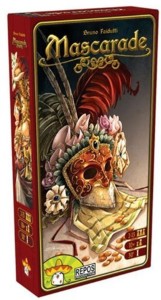 The goal of the game is to get 13 coins. Everyone starts out as a specific character. Throughout the game, characters get shifted around and you have to either look at your card and see who you are, switch your card with someone else's, or guess what you are to use the card's power.
So, for example, if you want to use the power of The Judge (who collects coins from the bank), you say, "I'm The Judge." Then you go around the table and people say whether or not they think they're actually The Judge. If no one challenges you, you get to perform that character's action without revealing your card. If someone else claims to be The Judge, you both flip your cards. The person who was right takes that character's action. Whoever was wrong has to pay money to the bank.
This game is filled with chaos and gets pretty crazy.
It also has an expansion.
Players: 2-13 (Best: 6-12)
Ages: 10+
Length: 30 minutes
Price: $25.43, or $49.99 with the expansion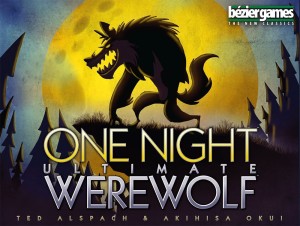 Don't confuse this with Ultimate Werewolf. There are lots of different versions, but the One Night is, in my opinion, the best.
This is a very quick game. Everyone gets a specific role, and the game comes with an app for your phone that will tell you what each role does.
The goal of this game is to kill off the correct character. If you're a villager, you want to kill a werewolf. If you're a werewolf, you want to kill anyone but another werewolf. Roles will get switched around while the app is giving instructions, so no one is ever 100% sure who anyone else is. When the timer ends, everyone stops talking and points to the person they want killed. The person with the most people pointing at them is killed and the group they don't belong to wins the game.
This game can be combined with One Night Ultimate Vampire, which will add more players and randomness. Both games can be played by themselves, as well. So if you prefer the Vampire theme, there's that option. (Though I personally think Werewolf has more interesting roles.)
This is my absolute FAVORITE party game.
Players: 3-10
Ages: 8+
Length: 10 minutes
Price: $14.19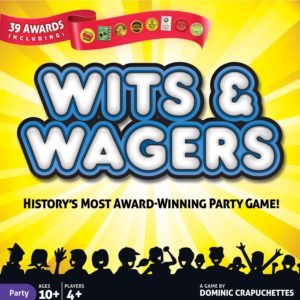 This is a great trivia game for people who aren't into trivia.
Each player guesses the answer to a question like, "In what year did women start wearing bikinis?" Then, everyone reveals their answers and votes on the one they think is the closest (without going over). Whoever wins gets chips equal to the number of the odds on the betting mat.
What's fun about this game is people making ridiculous guesses. It's very rare that someone actually knows the answer to the question. It takes about 2 minutes to learn and, if you play on teams, can fit up to 20 people.
There's also a party version that's cheaper, but I've never played it so I can't say whether or not it's any good. (If you try it, let me know how it is in the comments!!)
Players: 3-20 (Best: 6-7)
Ages: 10+
Length: 25 minutes
Price: $24.19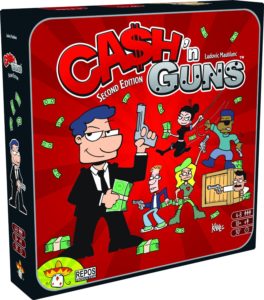 The goal of this game is to grab the most loot.
At the beginning of each round, the loot is revealed. Everyone chooses whether to load their (foam) gun with a bang or a blank. The Boss (the person with the Boss's desk) counts to three. Everyone points their gun at someone. The Boss is allowed to tell one player to change who they're pointing at. After that, everyone reveals the bullet card. If you shot someone with a bang, they take one damage and they're out of that round. If you shot someone with a blank, they're still in. (The point of this is to get them thinking you have a bang pointed at them. That way, they'll exit the round on their own. They take no damage that way, but they also get no loot.)
Those who got to stay in the round choose their loot. They can take cash, diamonds, paintings, or the Boss's desk. Everyone continues taking loot until it's gone and then the next round starts the same.
The game is over after 8 rounds. Whoever has the most valuable stash wins!
There are also two expansions: More Ca$h more Guns, and Team Spirit.
Players: 4-8 (Best: 6-8)
Ages: 10+
Length: 30 minutes
Price: $29.99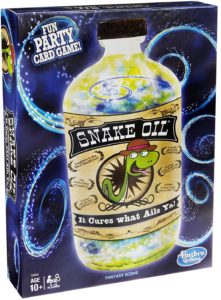 I was going to go with Bucket of Doom, but Snake Oil is more family-friendly. And I find people prefer Snake Oil, anyway.
Each round, one person plays the "customer." They draw a card with a character (like, "Cheerleader") and you have to use two cards in your hand to create a product you think that person might buy. Then you give an impromptu "elevator speech," explaining why that person needs this product. They'll pick the winner of the round. First person to play to whatever number you picked wins.
Players: 4-10 (Best: 5-6)
Ages: 10+
Length: 30 minutes
Price: $21.99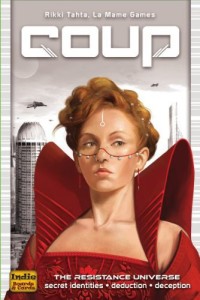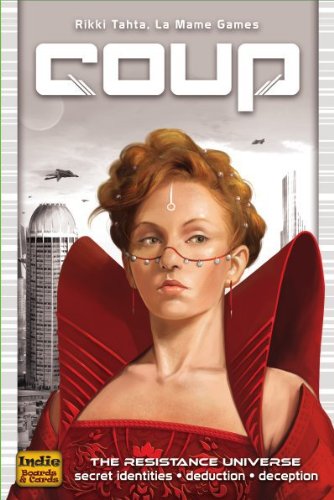 This is a game of influence, where you can bluff or tell the truth. The goal of the game is to be the last one standing. But we already wrote a review of Coup, so I won't say anything else about it.
It has an expansion, Reformation.
The nice thing about this game is that it's tiny, portable, easy to set up and tear down, and it's really quick. So if you need a filler game while you wait for more people to start a big game, this is a great choice. (I also have a list of other filler games, if you need more options.)
Players: 2-6 (Best: 5)
Ages: 9+
Length: 15 minutes
Price: $7.99
Are there any party games you're looking forward to playing over the holidays?